Stone & Style offers a unique selection of stylish, contemporary, and chic stone products. Our product range includes fireplaces, table tops, tile, kitchen hoods, columns, and a lot more. All of our products are manufactured with the highest quality standards. Our goal is that any idea of a marble product you may have, we´ll make it a reality. To make this happen you can contact one of our designers to make any customized product you may need.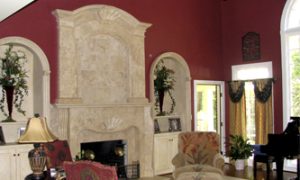 Customer oriented: We focus con giving our clients solutions and personalized attention in all their process..

Versatility to make your idea in marble: We can make almost anything in stone that you may need.

Quality: All of our products are manufactured with the highest quality standards.


Stone & Style began on 2001, becoming a leading company in the Mexican Stone Industry.
Our factories are located in Torreón, Coahuila MEXICO. They are equipped with the finest Italian Machinery and all of the processes are under strict quality control.
We offer the best quality products, also we offer a variety of sizes, styles and colors to suit any need you may have in any product of travertine marble such as: fireplace surrounds, columns, washbowls, fountains, entry surrounds, tile, overmantels, and many more.
Our design team can help you transform any idea into reality.  We own and manage the entire production process from the quarry through manufacturing.  We create computerized drawings to bring you a perfect fit. We offer the warmth of genuine natural stone carvings with accuracy and efficiency.