We love marble. as in LOOOOOVE.
Sometimes though, contrast is what makes beautiful pieces really stand out. That's definitely the case in the following list of crazy gorgeous spaces. Each one incorporates marble without doing the whole "floor to ceiling" thing. Contrast is key to creating that texture we've been raving about all year. These next few interiors really prove the point. We've compiled a list of some of our favorite material combinations for interior design that are sure to stir up your inspiration. Check the article complete here.
August 22, 2016
By Kelsey Kamentz
Marble and Wood
Wood, whether natural or look-alikes, is so fundamental in interior design, it's almost cheating to put it on the list. But these spaces really use the natural tones and essence of wood to highlight the organic beauty of marble.
Marble and Brick
Industrial/Historic takes on a sophisticated edge when you pair something as gritty as brick with the clean, sleek look of marble.
Artisans have been creating beautiful works in glass for literally centuries. But when the inherent texture, degree of translucence and even shapes are used to compliment the opposite opaque beauty of marble, that's when you get something really special.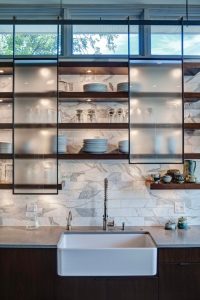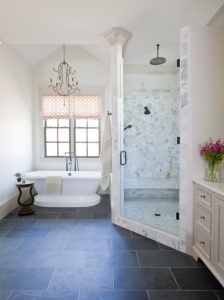 Yes… we know marble is, in fact, a stone. But some spaces are meant for bold contrasts, while others come alive with subtle nuance.
Or why not take the comparison directly in the shower like this one? Marble's delicate veining balances the feminine and masculine influences for one to-die-for bath.
In wrap up, marble in gorgeous on its own. But there's something to be said for variety right?