¿Modern fire? We check this article complete here
By carolreeddesign.
February 27, 2011 in carolreeddesign.blogspot.mx
One of the most common requests I receive from clients, second to kitchens,  is to redesign an outdated fireplace (or to add a brand new one).  Just like any other architectural detail of a home, (staircases, doors, mouldings etc) fireplaces create character in an interior.  In well designed interiors, architectural elements like fireplaces and staircases should look like they 'belong' to the house, the style and character of the exterior structure of the home should be in sync with the interior architectural elements.  By in sync, I mean they should have the same character or…. thoughtfully and intentionally different so as to create a juxtaposition of style (not just randomly different).
Hands down my absolute number one favorite architectural feature in a home is an open wood burning fireplace.  There's nothing more appealing to me than the way a fireplace anchors a room or the warmth and ambience that's created from a crackling wood fire.
Contrary to the notion that wood burning logs are only for 'traditional' spaces, this contemporary fireplace design illustrates how even the most modern loving trendsetters can bask in the glow of a crackling wood fire without hanging a fake looking flame on the wall.
In my experience with designing fireplaces for clients it seems most people associate the concept of wood burning logs or a mantle or a hearth as being 'not modern', but you can see from the images above and the ones below, this simply isn't the case.  There are many ways to achieve a modern fire other than installing a linear gas burner in a wall.  Here's a look at some other favorites and examples of what I consider modern fireplaces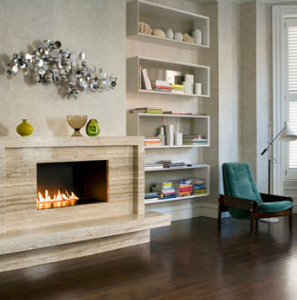 Another beautiful example of how the fireplace is completely integrated with the architecture and you can see how the contemporary exterior style translates thru the interior.  The rock media used in the base of the fireplace suits the local.